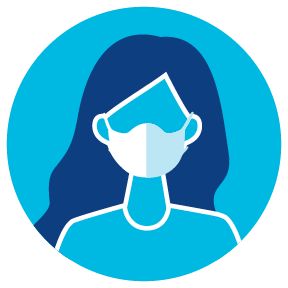 If face coverings are required at your resort, please bring your own face coverings and wear them at all times, except when dining or swimming. You may remove your face covering while actively eating or drinking, but you should be stationary and maintain appropriate physical distancing. All face coverings (whether disposable or reusable) must:
Be made with at least two layers of breathable material
Fully cover the nose and mouth and secure under the chin
Fit snugly but comfortably against the side of the face
Be secured with ties and ear loops and allow the guest to remain hands free
At this time, based on guidance from the health authorities, neck gaiters, bandanas, and face coverings containing valves, mesh materials or holes of any kind are not acceptable face coverings.
Guidelines at Other Properties
If you are staying at a third party hotel provider or resort not managed by Bluegreen Resort Management, please be advised that local and state mandates may determine face covering requirements while staying at that property. For more information, please review the official government website for the area surrounding the property or verify with the provider directly to ensure you have the most up to date information. Local and state mandates may be subject to change by the applicable governmental authority. Please keep in mind that failure to abide by an order may result in fines or jail time pursuant to the order as determined by local authorities.